D Crafter's Corner
A Directory of free crafts. Over 600 links to patterns or projects.
Tuesday, 26 February 2019
Crochet this cute little fellow, I am sure he will make a great gift.
Here is the link:
http://www.mazkwok.com/2012/12/chimpui-free-amigurumi-pattern.html#more
Monday, 30 July 2018
Crochet this fish applique that you can use for your projects or maybe use it as a keychain.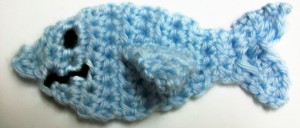 Here is the link:
https://www.crochetspot.com/crochet-pattern-somethings-fishy-applique/
Crochet these two cute monkeys for your children, I am sure that they will have hours of fun.
Here is the link:
http://www.jennyandteddy.com/2015/01/two-monkey-amigurumi-free-pattern/
Crochet this cute puppy for your child or for a gift, I think it would make a great gift.
Here is the link:
http://www.repeatcrafterme.com/2018/04/crochet-plush-puppy.html